Thought you might enjoy this egg from a small Lupine Blue butterfly.
Did Faberge get some inspiration at the microscope?
Stacked image on the left, one representative frame on the right.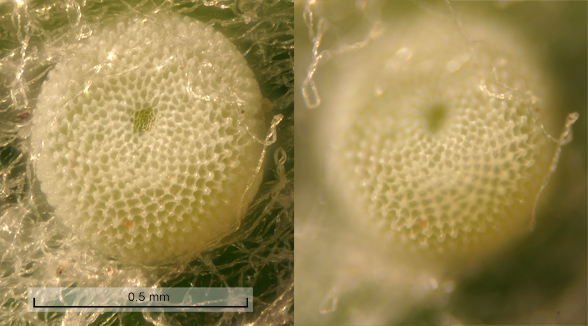 Icaricia lupini
egg, processed by Helicon Focus from a 59-frame stack.
Shot with a 10X, 0.25 N.A. microscope objective on 240 mm tube to Canon Digital Rebel.
For additional information, higher resolution, and stereo/rocking views,
see
http://www.janrik.net/insects/ExtendedD ... tereo.html
and the online article
"An Introduction to Extended Depth of Field Digital Photography"
.
Using so many frames, you might think this image is just a poster child for stacking technology.
But in fact I am fascinated by the image -- especially the stereo pair -- because I can instantly and effortlessly see structure that I was
never
able to see directly through any microscope.
The time to generate the stereo pair was more than repaid by the pleasure I get from it.
--Rik
Edit: to fix broken link