Combining some of our favorite topics, I have made a Christmas LED macro for you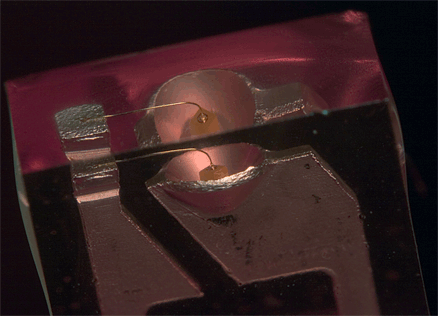 Cropped more tightly (and not blinking
)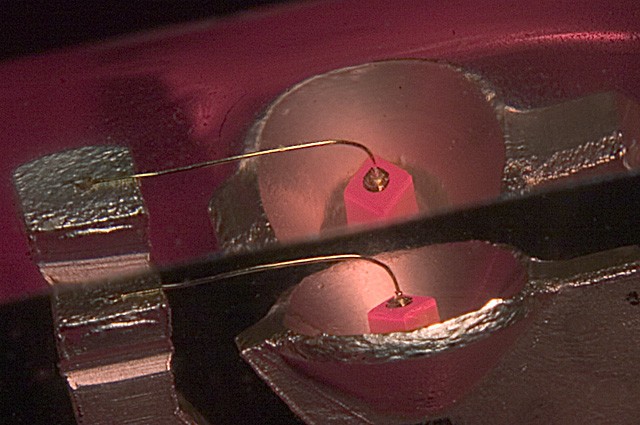 LED's are very cool devices, if you will pardon the pun. Through some high technology that I don't really understand, they convert electric current directly to light. You can find gobs of info about them on the web. For a particularly tongue-in-cheek treatment, see
this one
.
What you see here is a single LED, viewed simultaneously from two angles by looking through the top and side faces of its transparent plastic case.
As I understand it, the light is actually emitted from the rather thin junction between two types of semiconductors, which I guess must lie just below the top of the translucent cube where the band of brightest red is. The cube sits inside what appears to be a parabolic reflector, which I presume is designed to direct the light outward so it can be seen.
You may be amused by the various hoops that I had to jump through to make these pictures.
For starters, the standard plastic cases of these LED's have matte surfaces, great for diffusing the emitted light but not so great for imaging through. My first thought was to polish the plastic. But plastic polishing is not one of my best skills. I worked down from 600-grit cloth to rubbing compound to rouge, but still the surface was too rough. I applied several coats of a lacquer-like plastic finish. Still too rough. Finally I uttered a mild obscenity and decided to oil the dang thing. Olive, extra light. That worked great!
Then I started taking pictures. But you know (duh...), LED's are really bright! They normally operate on 20 milliamps of current. But there was no way that I could illuminate the supporting structure and still see the LED at anything approaching that brightness. So I threw in a large variable resistor and started cranking the current down.
Things were going pretty well...until one of the bare wires touched the clip vise I was using...and shorted out the limiting resistor...which made the LED draw a whole lot of current...which really
did
generate some heat...apparently quite a lot of heat, in fact...because then I had these funny little bubbles on the surface of the plastic case, right over all the metal parts.
No problem, I said...I have a lot more of these cheap little things in the junk box. And indeed I did. So I sanded another one smooth, slapped on a coat of oil (olive, extra light)...and discovered that the new LED's plastic was translucent, not transparent. Back to the junk box (sigh). Fortunately, I had another one (of 10) that actually had transparent plastic -- apparently I had grabbed a transparent one the first time by accident. OK then, back to business!
Things went relatively well after that.
The final pictures were shot in raw mode with my Canon Digital Rebel, 55mm lens reversed on bellows to give 3X onto the sensor. (The LED case is 4.9mm wide.) ISO 100, F/11 setting, 1/3 second. LED current 0.6ma, fill illumination from a 45W flood 4" from the case. In Photoshop, some color "corrections" to neutralize some of the unremittingly red appearance, and some sharpening to compensate for, well, I don't really know what but it looked better sharpened. The flashing image was done by photographing with the LED on and off, and rendering through Adobe ImageReady to an animated GIF.
I hope you enjoy this, and that it finds you well and having Happy Holidays!
--Rik