Today I noticed some mushrooms growing from some rotting roots at the edge of my lawn. I picked one, turned it over, and looked at its gills with the 10X magnifier that I always carry. Yep, black plates. Then I looked a bit closer and noticed what looked like some little dots down between the plates, where it's hard to see. I needed more light. So I held the thing up to the sun and got the light just right. Whoa!
Roughly speaking, and at much higher magnification, here's what I saw: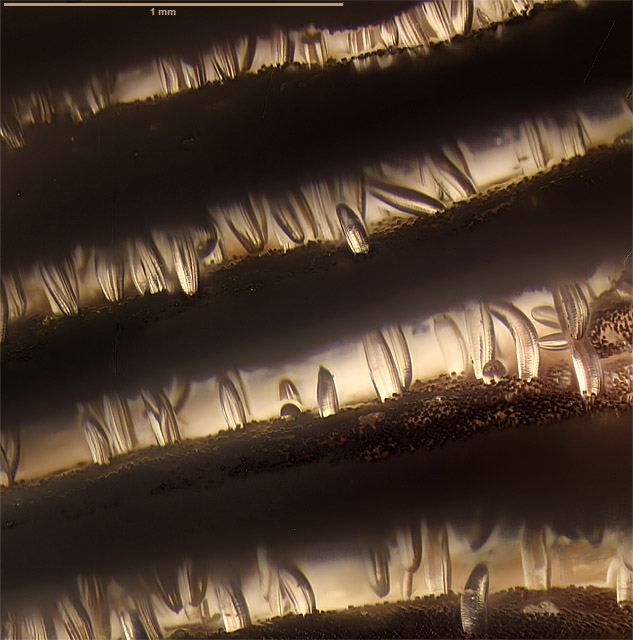 Here's a shot with more conventional lighting, after I ripped the thing open a bit.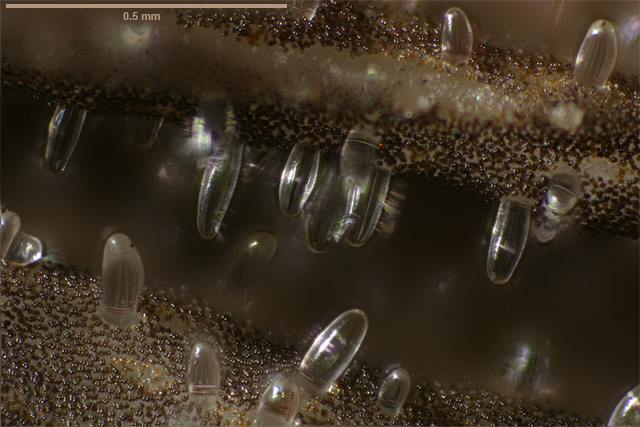 These finger-like structures are amazingly fragile -- apparently little more than a thin membrane filled with water. They start to shrink as soon as they get exposed to the air.
In fact, to get the second shot, I had to switch lighting strategies away from my usual incandescents because the heat made the things dry out before I could shoot a stack! A Luxeon LED positioned an inch or so away from the subject worked better, but still I had to hurry before the dry air in the room dessicated the specimen.
I have little idea what the function of the fingers is. I can imagine they serve to maintain spacing between the gills, so the spores can drop out cleanly. Perhaps someone else knows for sure?
Hope you enjoy!
--Rik
Technical detail:
Image 1: 3.2X NA 0.10 objective on bellows & tubes, 55 frames at 0.0005" stacked with Helicon Focus, incandescent lighting from behind. Slight crop.
Image 2: 16mm Luminar at f/3.5 (aperture setting 2) on bellows & tubes, 17 frames at 0.001" stacked with Helicon Focus, Luxeon LED from the side. Full frame.