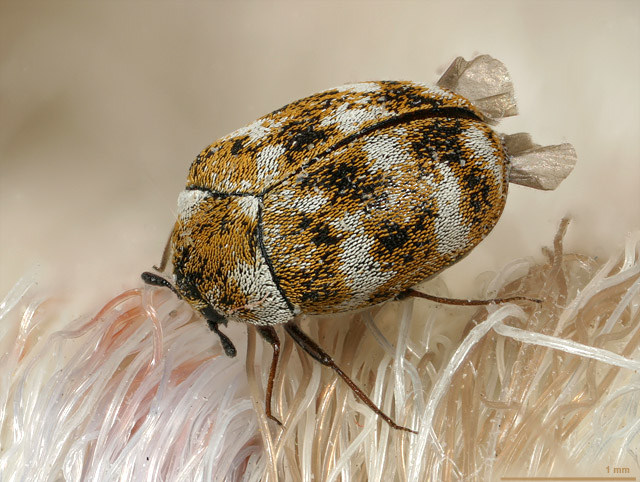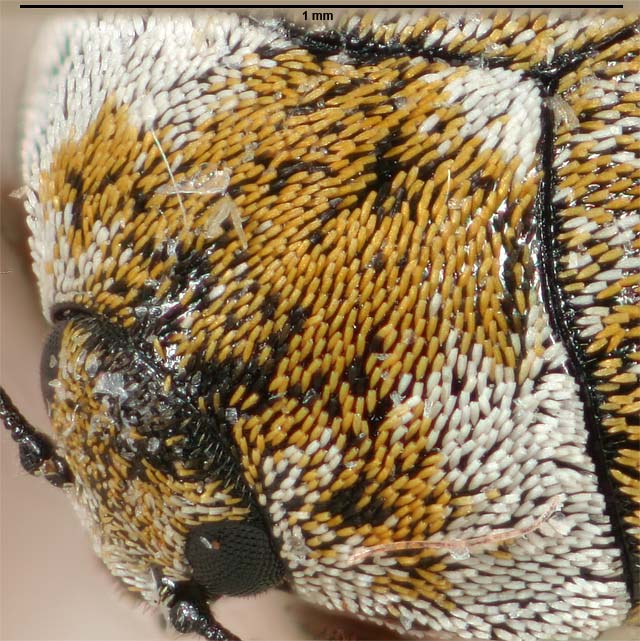 These beetles are quite interesting -- they are the only ones I know that have wing covers that are covered with scales!
The larvae are scavengers, specializing in high protein left-overs like skin flakes and dead critters. They can wreak havoc in an insect collection. (You can trust me on this...
) The adults are fairly innocuous. My bug book says that some of them are even found on flowers.
This particular specimen turned up in my windowsill. I relocated it to what I presume is kind of its "natural environment" -- a chunk of nylon carpet -- the better to photograph.
--Rik
Technical...
These pics are from playing around with my "new" (eBay'd) Olympus Zuiko 38mm f/2.8 bellows lens, specially designed for macro
and no longer being made.
This lens gives a minimum working distance of 33mm from closest point to the subject. Lots of freedom for illumination. And the thing is at its sharpest wide open, reputed to resolve 320 lines/mm on the subject. (No, I haven't measured it, and I don't intend to -- the test target would cost more than the lens!)
Stacked, of course. 0.002" at f/4 and 0.0005" at f/2.8. CombineZ5 for the first, Helicon Focus for the second.