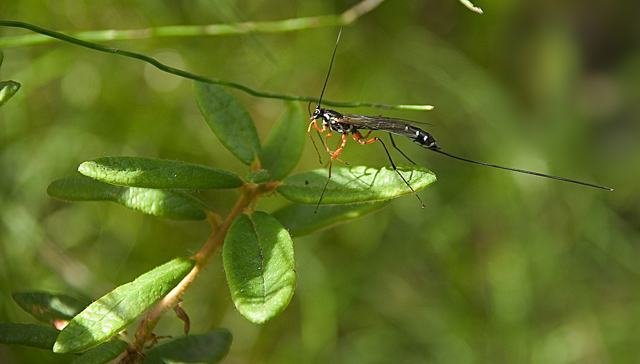 This is a large ichneumon wasp. The larvae of ichneumon wasps are parasitoids of other insects. Typically there's only one larva per host, but even so, it must take a large host to support this beast, which is nearly 3" long from eyes to ovipositor tip.
The ovipositor is that long "stinger" sticking straight back, longer than the body. It's actually a pretty complicated assembly of parts -- some for boring and some for passing an egg, with chemical and tactile sensors thrown in to make sure the process is productive. Wikipedia has a
good article
on these things, and you can find hordes more info with Google.
This was a grab shot while on vacation last summer near Banff, Alberta. Canon 300D, Sigma 18-125mm zoom at 125mm, f/5.6, natural light. I consider this lens to be a bit unkind to OOF backgrounds. Its bokeh is such that every sharp feature turns into a large but fairly hard-edged "blur", leading to a background that some people (me, for example!) find to be a troublesome texture -- like there's detail deliberately hiding back there.
Most of the time, I'm pretty tolerant of backgrounds, but this one really annoyed me. I thought I'd see if I could fix the problem, and in rather short order, here's what I ended up with.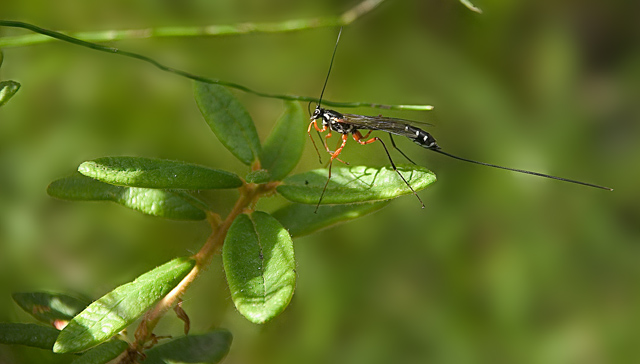 What do you think, improvement or not?
--Rik