"Dear Manufacturer, here is an example of what
not
to let out of your factory."
On the left, the example: a 3 x 0.5mm slotted setscrew. On the right: a properly formed 3 x 0.5mm thread.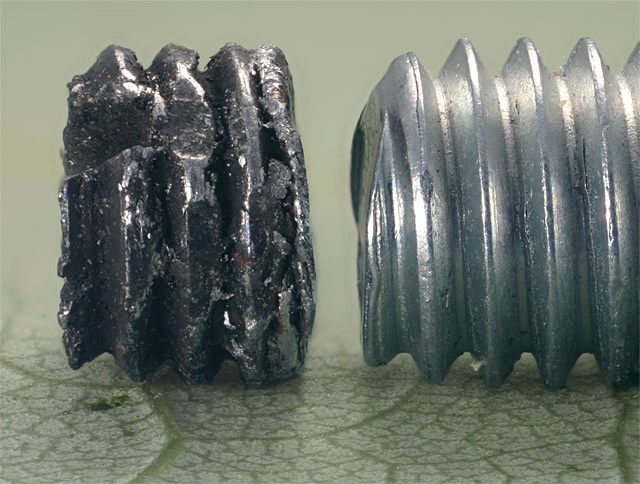 There's a story behind this, of course.
I finally decided it was time to buy a fiber optic illuminator. After giving the marketplace due study, I decided to go for an eBay unit that looked pretty reasonable. It came yesterday. The unit is quite nice -- better than I expected, to tell the truth.
But there was this one aspect that just didn't make sense. The fiber tubes have focusable output lenses, and the focus was locked with a slotted setscrew. How silly, I thought, for something that's gonna get adjusted frequently. Besides, they didn't even seem to work very well. When I investigated, I found what is shown above -- possibly the world's most badly manufactured setscrews, which had already destroyed their mating threaded holes.
It's all fixed now. A simple matter to drill and tap new holes for some new capscrews -- things I can lock and unlock with my fingers instead of tools.
Why would a manufacturer mess up an expensive assembly to save a couple of pennies on a setscrew?
--Rik
Canon 300D, 50mm El-Nikkor reversed on bellows, f/8, mild stacking. Fiber optic illumination with ping-pong ball diffuser.