Edited to add: the whole trigger mechanism is shown in more detail at
https://www.photomacrography1.net/forum/viewtopic.php?t=5112
.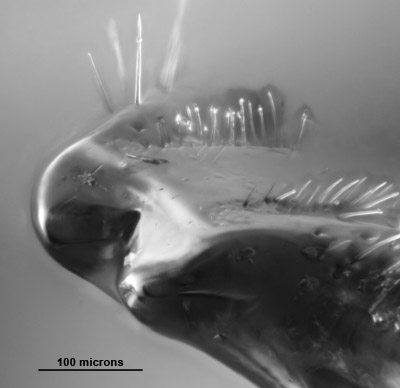 Somehow this seems more appropriate over here in the micro forum.
What's pictured here is half of the trigger mechanism of a click beetle, shown here at about 270X. This is the piece that projects from the mesothorax, mating with the prong on the prothorax. You can see in this view that there is a fairly well defined lip on the front of the projection. I'm pretty sure, from real-time observation, that this lip mates with a corresponding lip on the prothoracic prong, allowing the beetle to exert great pressure on the mated pair before firing the trigger by releasing the prong.
This picture, and numerous others like it that I'm not showing you, were a great revelation to me. I had thought, from direct observation through a dissecting scope, that this projection was divided by a longitudinal fissure. Obviously not so! I'm not sure what the problem with the dissecting scope view was. I guess I'll have to go back and figure that out.
This image is cropped from a Canon 300D, shot with an Edmund's generic 20X NA 0.4 objective projecting directly onto the camera's sensor. The objective is a basic achromat, giving 3.3mm working distance so I could light the subject externally instead of through-the-lens. The objective is designed to be used with a standard cover slip; I'm using it without one. What's shown here is just the green channel. There was some problem with ghosting in the red channel, and the blue channel didn't seem to add any detail. Stacked using Helicon Focus, with a 0.0002" = 5 micron focus step.
I'm pretty pleased with this image, but I'd be interested in whatever thoughts cross your minds.
--Rik
PS. Charlie, this is using a ping-pong ball and fiber illuminator. Thanks for the advice!