Oh, sorry, I must have put an extra space in that title.
What I really meant was, "Have you ever seen a snakefly?"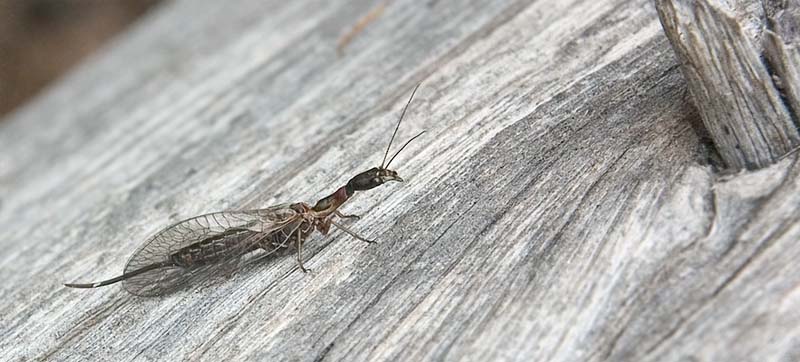 Well, you have now!
These strange creatures are fairly close relatives of Dobsonflies, lacewings, and mantidflies.
Their classification is a bit controversial. Some authors classify snakeflies as Neuroptera:Raphidiidae, while others elevate the family to a separate order and say Raphidioptera:Raphidiidae. All the American species are genus
Agulla
, formerly assigned to
Raphidia
says the Audubon Society. Ah, taxonomy...you gotta love those scientific names "that never change and everybody agrees about"!
Regardless of what you call 'em, snakeflies are predatory. They are particularly fond of aphids and are considered beneficial insects. They're also not very common, and they're strange enough to usually attract some attention when they show up.
But some of the strangest features don't appear in a photograph. Peter Bryant writes at
http://www.dbc.uci.edu/~pjbryant/biodiv ... Agulla.htm
that
They are one of only two groups of insects than can run backwards at full speed (the only other insects that can do this are Webspinners, Order Embioptera)
(Hmm, I've never seen an Embiopteran, or at least I've never noticed one. Something to look forward to, I guess.)
Anyway, the other peculiar thing about snakeflies is that although they have complete metamorphosis, the pupae have all their limbs fully articulated and separated instead of stuck together like most insects. In fact, at
http://www.answers.com/topic/raphidiopt ... cal-family
it says that
Preimaginal pupae are extremely mobile and, except for their small wing pads, are similar to adults.
Those late pupae are strange looking critters indeed. I saw one, once, long before I knew how to run a camera, and the experience has stayed with me for, ah, a long time now.
--Rik
Canon 300D with Sigma 18-125mm at 125mm and closest focus, cropped to about 45% of frame width.
This image shows about 2" wide.

If you're really curious about these critters, check out "THE BIOLOGY OF RAPHIDIOPTERA: A REVIEW OF PRESENT KNOWLEDGE", currently available online.