To tell the truth, I didn't notice the electric blue spots until I looked at the pictures.
By eye, I thought the critters were just black and yellow with red heads. Old eyes, I guess.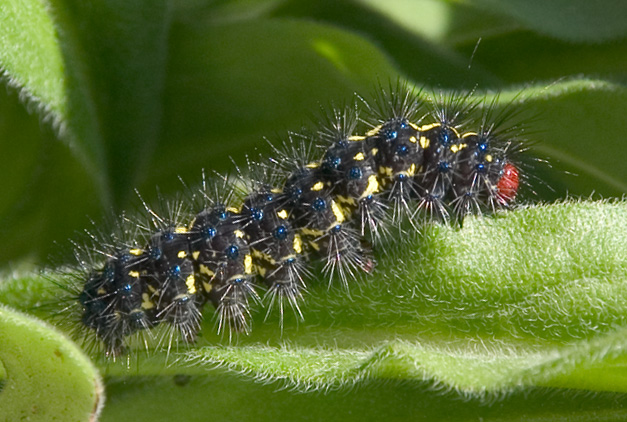 These things were really working over what seemed to be some large Forget-Me-Not plants (
Hackelia
sp?) that were just starting to bloom. There'd be lots of plants with no caterpillars, and then one with a dozen, in probably three different instars (molts). Here's one that I counted around 20 on the real plant, though it was kind of hard to keep track of what I had counted and what I hadn't. I think of it as my "Where's Waldo?" picture.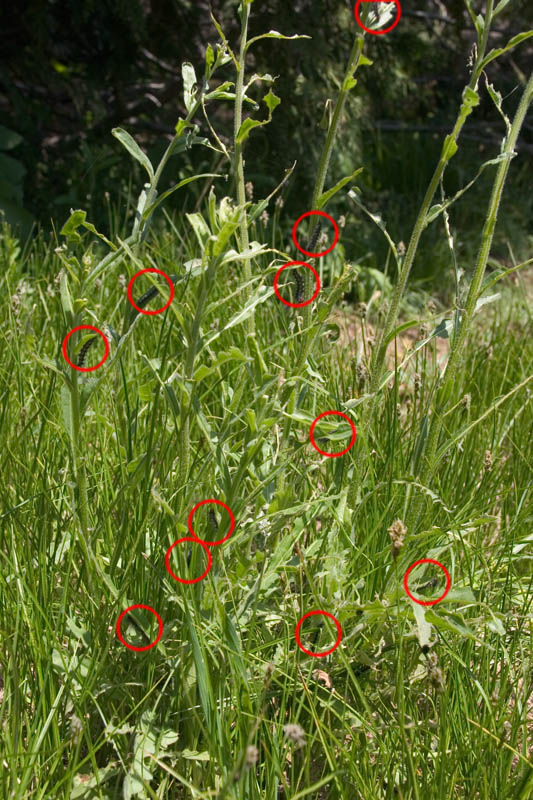 I have no idea what species these caterpillars are. Perhaps some of my Lep Soc friends will tell me.
--Rik
Location: Washington State, Goat Rocks Wilderness, South Fork Tieton drainage, south-facing slope at altitude 5250 ft, UTM T 625828 5149342 (NAD27 CONUS). June 30, 2006. Snowline on this date about 5500-5700 ft.

Canon 300D, Sigma 18-125mm. Single caterpillar is about 1-1/4" in length, the largest I saw.