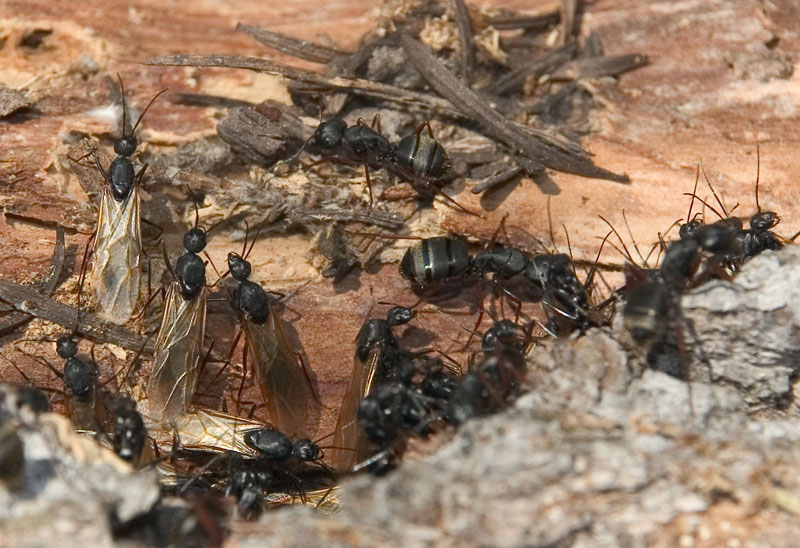 Field width 2", largest ants are almost 1/2" long.
What's going on here? Well, I really don't know!
These are carpenter ants, a large species that inhabits western forests and generally makes its living in and around rotting wood. Apparently they're pretty flexible about this. I have seen what appear to be the same kind of ants nesting in both rotting wood and dry soil. In fact, just a couple of miles back from where I shot these, there were dense columns of these things coming and going from a 1/4" hole in gravel by the side of the trail, no trees within 10 feet.
Anyway, like all ants, the reproductive individuals are the winged princes and princesses that get kicked out of the nest to go fly their mating swarms.
When I first saw these, I thought that's what was about to happen. But no, this was more like sunbathing. All the winged ones were the smaller princes, not a princess in sight. After a while they all went back inside the tree, leaving me to wonder, "What was that all about?"
The picture above shows just a small part of the action. The bulk of the ants were actually in a different area that didn't photograph so well.
Here's the broader picture. Red rectangle is the closeup, green ovals are the big crowds of ants.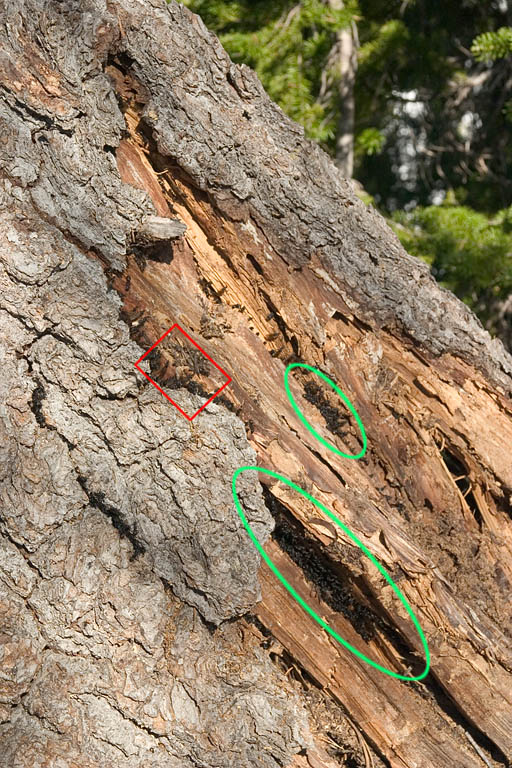 Happy hiking!
--Rik
Canon 300D, Sigma 18-125mm 1:3.5-5.6 DC. The first picture is at 125mm, closest focus, cropped to 1/2 frame width.